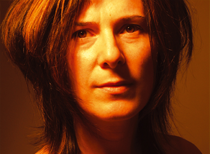 Olga Danelone was born in Udine, Italy.
She took advertising, artistic and multimedia studies in Udine and in Urbino: 1979-1981 Poster Advertising Technique at I.r.fo.p. (Udine); 1984-1989 Scuola d'Arte Giovanni da Udine (Udine); 1991-1991 Graphic Computer at C.S.G. (Udine); 1991 Chalcography – Accademia Raffaello (Urbino); 1994 Video Techniques at C.E.C.(Udine).

Next to her work as a painter, at first she carried out an analysis on Eastern philosophy and, afterwards, along with scientific themes, on Western philosophy.
Philosophy and science are still part of her personal and artistic research.

She began to exhibit in 1986.
Her works can be found in public and private collections.

Studio: S. Giovanni al Natisone (Udine) Italy.

At the moment Olga Danelone's works have a worth with a coefficient from 1.0 to 1.5.