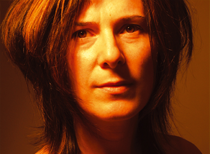 Olga Danelone combines multiple techniques and languages to bring into the dynamics of contemporary urban life the scientific concept, very dear to her, of trophallaxis: the reciprocal exchange of nourishment that on the one hand unites all the components of a colony of social insects and on the other hand plays an important role in the cohesion of the group itself.
Olga Danelone, through the expansion of roads and its interweaving, the deviations, escalators, roundabouts and confluences, tells of the shared food as a founding element of the cohesion of the group and inescapable social bond.
In the recent idea of the brand "Olga Danelone – International Street View" to be imprinted on maps, there is the further role of 'Creator of destinies', approved and stamped, our "to-come" ready and available to all. The beginning of an era where automatism is accepted as an unconscious wish embedded in chemistry.
Olga Danelone was born in Italy, in 1964.
She took advertising, artistic and multimedia studies in Udine and in Urbino: 1979-1981 Poster Advertising Technique at I.r.fo.p. (Udine); 1984-1989 Scuola d'Arte Giovanni da Udine (Udine); 1991-1991 Graphic Computer at C.S.G. (Udine); 1991 Chalcography – Accademia Raffaello (Urbino); 1994 Video Techniques at C.E.C.(Udine).

Next to her work as a painter, at first she carried out an analysis on Eastern philosophy and, afterwards, along with scientific themes, on Western philosophy.
Philosophy and science are still part of her personal and artistic research.

She began to exhibit in 1986.
Her works can be found in public and private collections.

Studio: S. Giovanni al Natisone (Udine) Italy.